EYLESVIEW MCCONNELS HEART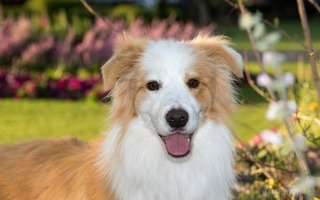 We are proud to introduce Mac, EYLESVIEW's first home-bred girl.  Mac is a quality, high-drive pup who will try her paw at Conformation Showing and Tracking in 2017.
Date of Birth: 30 August, 2016
Sire:   Deargban King of Scots
Dam:  Becksbest Matildas Gem
DNA Testing:  Full Profile available
CEA, NCL, TNS – DNA tested clear
Primary Lens Luxation – DNA tested clear
Degenerative Myelopathy – DNA tested clear
Cobalamin Malabsorption Cubilin Deficiency – DNA tested clear
Myotonia Hereditaria (CLCN1) – DNA tested clear
Ivermectin Sensitivity MDR1 Normal
Long Hair Gene – affected (Mac is long haired)
ee (Mac is red in colour / carries the red gene)
Hip and Elbow Scoring:     Mac will be hip and elbow scored in 2017
Other:             Currently on main register with Dogs QLD – registration certificate available.  Microchip and health certificates available.
Results:
16 September – Allora Kennel Club Show – Junior of Breed
3 June – Gin Gin Show Society – Runner Up Best of Breed, Bitch Challenge
20 May – Sunshine Coast Kennel Club Show – Minor Puppy of Breed
13 May 2017 – Crows Nest Show – Best of Breed, Bitch Challenge
29 April 2017 – Goombungee Show – Reserve Bitch Challenge, Minor Puppy in Group